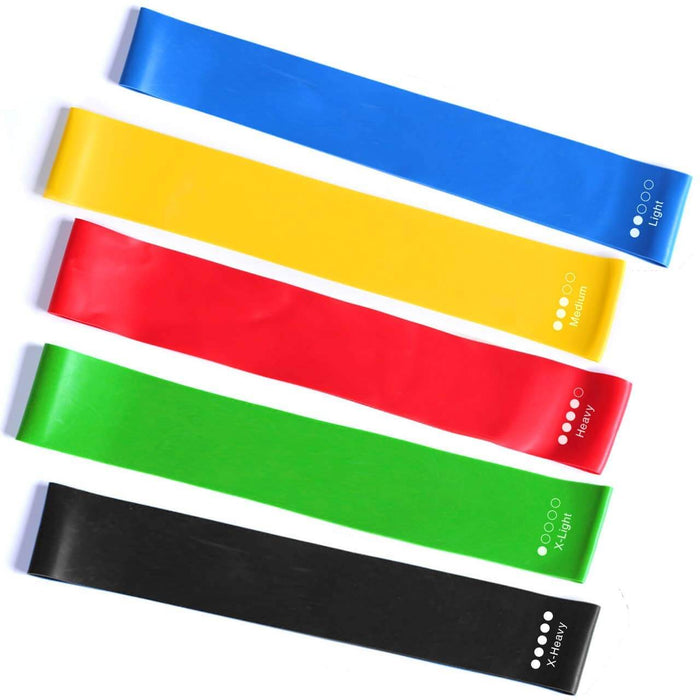 Resistance Exercise Band - Set of 5
About this product:As an excellent method of resistance training for the development of specific muscles and tendons, the Health resistance loops pack can be used to add variety to standard workouts. Four different weights offer a gradual challenge and aid to build your muscle strength. Start with the lowest level of resistance and build sets and repetitions gradually. Lightweight and portable, Women's Health resistance bands can be taken anywhere and offer an alternative to heavy and large weights."5 Resistance Bands Include: Made from 100% natural latex. Comes in 5 different resistance strength levels: green (5lbs) , blue (10lbs) , yellow (20lbs) , red (30 lbs) and black (40lbs). They're suitable for beginner or a seasoned workout sportsman. Efficient Workout: Loop Resistance Bands increase the effectiveness of your exercises. Used for a range of workouts, from glute and hip activation, strength techniques to integrate seamlessly with every workout program such as Yoga, Pilates,etc.Multifunctional: The resistance band set can be used to exercise all parts of muscles such as arms, chest, abdomen, glutes and legs, also good for Physical Therapy, Recovery or to increase Mobility.Gym-in-your-pocket: The exercise bands take up little space so that you can use them at home or carry on the way, such as in office, on a vacation, even can squats while watching TV at home.Package:5 Exercise Bands with different strength + manual + bagSize:The different color specifications:Green (5 pounds): 600 * 50 * 0.35MM Blue (10 pounds): 600 * 50 * 0.5MM Yellow (20 pounds): 600 * 50 * 0.7MM Red (30 pounds): 600 * 50 * 0.9MM Black (40 pounds):600 * 50 * 1.1MM
Adaptable for Multiple Fitness Levels
---
Regardless of your fitness levels, whether an expert or just a beginner, resistance bands are perfect for you. They come with various resistances ranging from light, medium, to heavy and you can also adjust the intensity of your workout by either increasing or reducing the flaccidity of the band.
---
Variety is not only essential for life; it is also the determinant of your success when it comes to working out. There are a huge variety of exercises you can perform with resistance bands, including pull-ups and retraction pulls for upper body, and glute bridges, clams, squats, and lateral kicks or walks for lower body.
Ideal for Travelling or Home
---
Resistance bands are very portable as well as lightweight. You can stash them in your bag when you travel and make use of them to get a good workout right in your hotel room. It provides an avenue to stay fit even when you are far away from home.